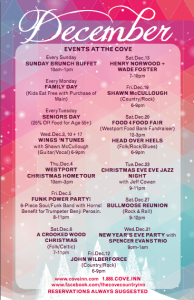 Hello friends!
Lots of exciting times coming in December! Particularly, my twin brother
Jeff and his family are returning from Australia for a visit! They will be
around lots so stop in and visit as they haven't been back in over 2 years!
We look forward to this time of year every year. It's great to see family
and friends coming together to celebrate! This is also a time for us to
acknowledge your continued support and interest in The Cove. It's been 26
years and things are still looking up! We couldn't do it without you…
Hope to see you soon,
Seamus and All of Us at The Cove
DECEMBER EVENTS @ The Cove
www.coveinn.com
www.facebook.com/thecovecountryinn
1.888.COVE.INN
Every Sunday
SUNDAY BRUNCH BUFFET 10am-1pm
Every Monday
FAMILY DAY (Kids Eat Free with Purchase of Main)
Every Tuesday
SENIORS DAY (25% Off Food for Age 55+)
Wed.Dec.3, 10 + 17
WINGS 'N TUNES with Shawn McCullough (Guitar/Vocal) 6-9pm
Thu.Dec.4
WESTPORT CHRISTMAS HOME TOUR 10am-3pm
Fri.Dec.5
FUNK POWER PARTY! 5-Piece Soul/Funk Band with Horns! A Benefit for
Trumpeter BENJI PEROSIN 8-11pm
Sat.Dec.6
A CROOKED WOOD CHRISTMAS (Folk/Celtic) 7-11pm
Fri.Dec.12
JOHN WILBERFORCE (Country/Rock) 6-9pm
Sat.Dec.13
HENRY NORWOOD + WADE FOSTER 7-10pm
Fri.Dec.19
SHAWN McCULLOUGH (Country/Rock) 6-9pm
Sat.Dec.20
FOOD 4 FOOD FAIR (Westport Food Bank Fundraiser) 12-3pm
HEAD OVER HEELS (Folk/Rock/Blues) 6-9pm
Tue.Dec.23
HOLIDAY JAZZ NIGHT with Jeff Cowan 9-11pm
Sat.Dec.27
BULLMOOSE REUNION (Rock & Roll) 9-12pm
Wed.Dec.31
NEW YEAR'S EVE PARTY with SPENCER EVANS TRIO 9pm-1am
You are responsible for this task!