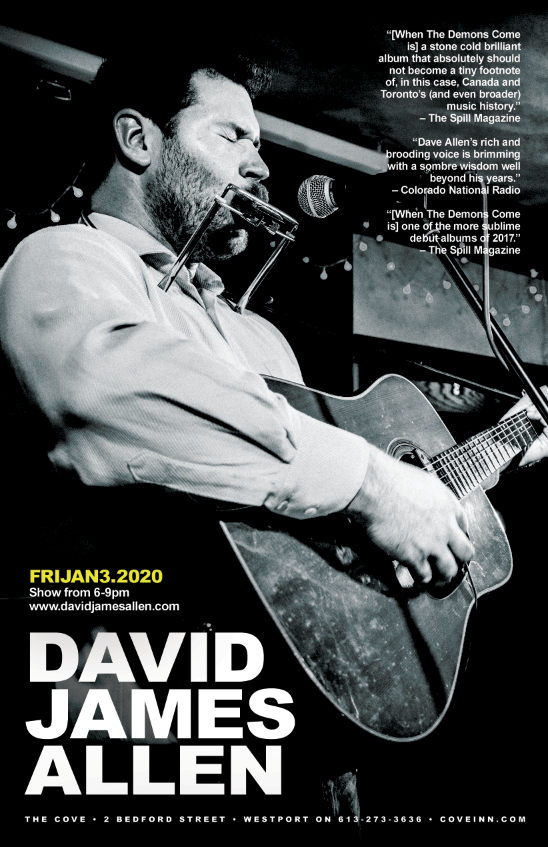 With his debut solo album, Toronto-based singer/songwriter David James Allen establishes himself as a bona fide roots music auteur, transporting us to a place that to our modern perceptions will seem uncomfortably foreign, or conversely, all too real. Listeners previously heard flashes of Allen's brilliance in his previous work with the Barrie, Ontario collective Stonetrotter, but on When The Demons Come he takes full command in bridging his wide-ranging country, folk, blues and gospel influences.
Following a stint with a pop-rock band in St. Catharines, Ontario, Allen returned to his hometown of Barrie and began connecting with the musicians who would eventually comprise Stonetrotter. The group made two EPs before releasing its self-titled independent full-length album in 2015, described at the time by Jim DiGioia of Quick Before It Melts as, "an effortless blend of cool country, simmering soul, swampy psychedelia, and biting barroom brawn."
The album would go on to spend 15 weeks on Earshot's national album charts, and bring the band shows with Zeus, TUNS and others. Allen credits the work he's done as a member of Stonetrotter with giving him the confidence to pursue the specific vision he had for When The Demons Come, and execute it on his own. It's just the beginning of what is sure to become an impressive body of work in the future.
Cost: Please Generously Tip Our Musicians
Date :
Friday, August 7, to September 11, 2020 from 5pm – 8pm
Event location :
2. Bedford St.
Westport, Ontario K0G 1X0 Canada
Contact :
Seamus Cowan Website: http://www.davidjamesallen.ca/ and http://www.coveinn.com/