Prescott – Friday November 4, 2011 | 8-11pm
From Almonte, is Kaylen and Kelly Prescott, a brother and sister duo. Their new CD called "The Lakeside Sessions" is an impressive collection of songs textured with hillbilly, heartbreak, and love. Their performance at MUSICwestport 2011 surprised and delighted crowds!
$10/person
Reservations Recommended
Jazz Night Friday November 11, 2011 | 9-11pm
Jazz Night with the Spencer Evans Trio featuring Seamus Cowan and Special Guest Drummer, Rob Radford. This event is free. Join us for an incredible Jazz inspired special for dinner too 5:30-9:00pm
Reservations Recommended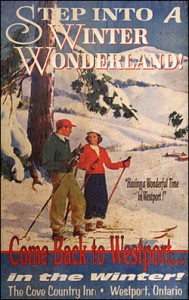 Blues on the Rideau Series – Donald Ray Johnson & Maurice John Vaughn Band – Friday November 18-19, 2011 | 7-11pm
Donald Ray is a Grammy Award winning soul/blues/R&B vocalist and drummer from Calgary via Texas/California with a voice like Lou Rawls. Maurice John is a long time friend and veteran guitarist/keyboardist/singer/songwriter from Chicago who has toured with Luther Allison, Son Seals and A.C. Reed. Backed by a hot Chicago band including B.J. Emery on sax.
Proceeds to Friend of Foley Mountain and Westport Food Bank
$60/person Show and Buffet with Donation to Charity
Reservations Only
Westport Christmas Fashion Show Tuesday November 22, 2011 | 12-2pm
Featuring Local Businesses Fundraiser for Westport Food Bank…Bring a Non-Perishable Food Item for those in need! Door Prizes! Discounts from Stores!
$25/person includes Show, Lunch, Tea/Coffee and Dessert
Tickets availabe at participating stores and The Cove
Kevin Head Saturday November 26, 2011 | 1-4pm | 8-11pm
Come watch the annual parade then enjoy the seasonal sounds of Kevin Head during his matinee appearance 1-4pm.
At night, party it up with Angler Management featuring Mike Cochrane from The Salmon House with Jeff and Seamus Cowan of The Cove and Gerald Van Halteren. Roots Rock and Roll Classics.
Free!
Twin Sax December 9, 2011 | 8-11pm
Featuring master saxophonists Chet Doxas (Montreal) and Jonathan "Bunny" Stewart (Kingston) with Jeff Cowan on Drums and Seamus Cowan on Bass. Don't miss a special night reuniting fellow McGill University jazz alumni!
Uniting these hornmen with friends and former bandmates Jeff and Seamus Cowan opens opportunity for uncharted territory with original and classic modern jazz compositions.
Prepare to be surprised and challenged…
The Cove is located at 2 Bedford St., Westport, Ontario. To call and make reservations phone 613-273-3636. For additional information visit: www.coveinn.com.