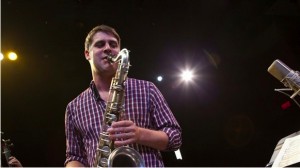 On Friday,  October 4, 2013, the Chet Doxas Jazz Band is starting their "Dive" album release tour at the Cove. Doors open 8-11pm, and tickets are $20.
The widely accomplished and Juno nominated Montreal-based saxophonist Chet
Doxas is announcing a cross-Canadian solo tour following the release of
his latest album "Dive".
Chet also continues his long time collaboration with the
multi-award-winning Sam Roberts Bandand will be featured on their upcoming
release. Chet will also release a co-led cd entitled "Riverside" along
with the trumpeter Dave Douglas in April 2014 on Greenleaf Records. Also
expect to see them touring across Canada and Europe during the summer of
2014 along with Steve Swallow on bass and Jim Doxas on the drums.
His Fall touring quartet will feature Matthew Stevens on guitar, Zack
Lober on bass and Eric Doob on drums (with Tilden Webb replacing Matthew
Stevens October 16th).
Interviews available upon request.
Chet Doxas – saxophone
Matthew Stevens – guitar
Eric Doob – drums
Zack Lober -bass
* Tilden Webb will be replacing Matthew Stevens in Vancouver on October 16th.
"… all the music on Dive is just as robust, creative and, indeed,
thrilling. So much so that, while there's a lot of time left for 2014
contemporary jazz Juno rivals to emerge, I honestly won't be surprised
if it's Doxas giving the thank-you speech at next year's awards gala
dinner." – OTTAWA CITIZEN
"based on complex but hooky melodies" – VOIR
"…his saxophone shows glimmers of Jan Gabarek's glistening,
full-toned throatiness, but often restrained where appropriate" –
EXCLAIM!
Call 1.888.COVEINN for reservations!
Hope to see you,
Seamus and all of us at THE COVE