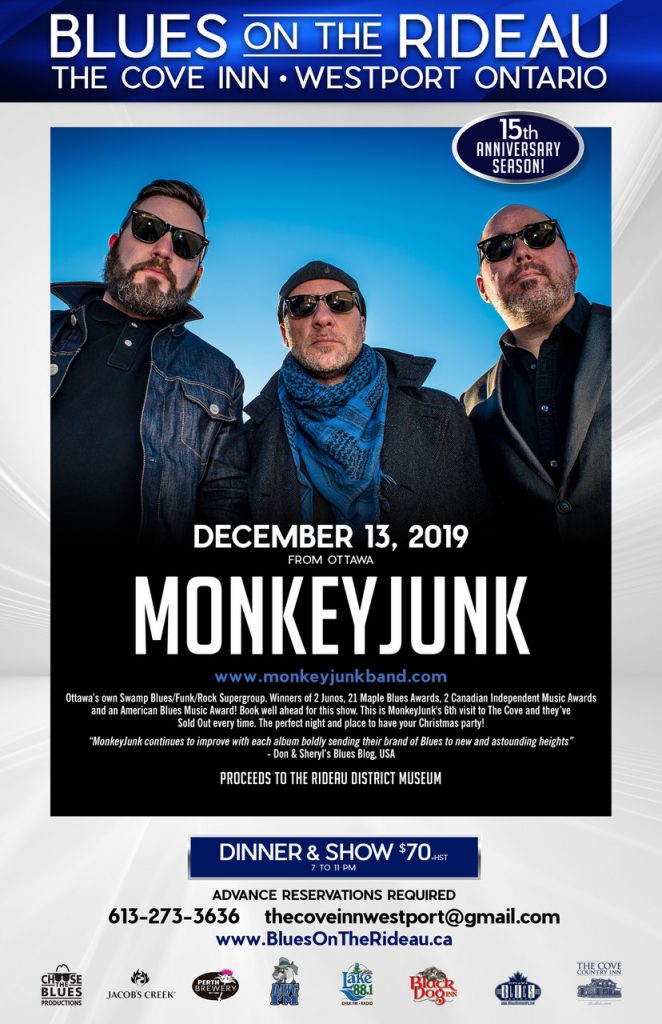 What can you say about this amazing Blues/Funk/Roots/Rock band? – Steve Marriner on vocals, baritone base, keyboards and harp, Tony D on guitar and Matt Sobb on drums.  Since they blasted on to the scene in 2008 they've released 5 hit albums of mostly original music, won 2 Junos, 21 Maple Blues Awards, 2 Canadian Independent Music Awards and an American Blues Music Award. They've toured relentlessly to just about every corner of Canada appearing at major Blues festivals and clubs as well as internationally to a dozen different countries.  Wherever they go they make new fans known as Monkey Junkies.
Luminaries like Dan Aykroyd (Elwood Blues), David Wilcox, Holger Petersen, William Shatner, Ritchie Hayward of Little Feat, actor Bruce Greenwood and many more count themselves as major MonkeyJunk admirers. Their sound is unique – to quote Tony D – "we respect the traditions of Roots music and give it a modern approach". Rock.com calls MonkeyJunk "way more than just a Blues band.
They've brought the disparate elements of their sound together to create a truly modern sonic tapestry".
Fee/Rate: $70.
Date :
Friday, December 13, 2019 from 7-11pm
Event location :
The Cove
2 Bedford St.
Westport, Ontario K0G1X0 Canada
Contact :
James Doran
613-273-3636 or 1-888-COVEINN
Website: http://www.choosetheblues.ca/
or email thecoveinnwestport@gmail.com