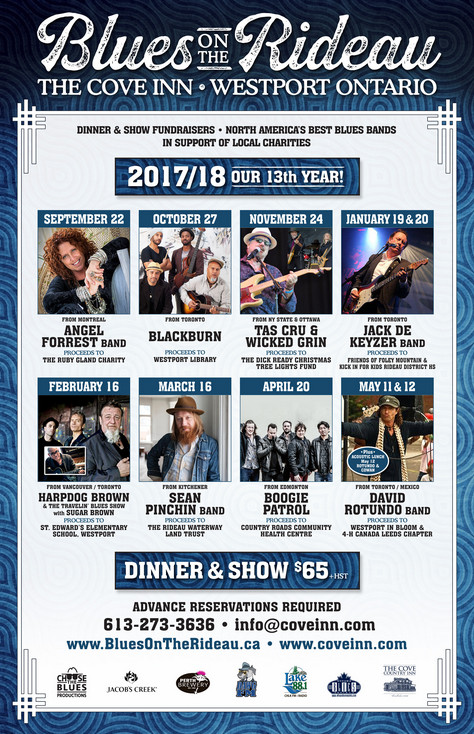 BLUES ON THE RIDEAU @ THE COVE INN
WESTPORT ONTARIO
2017/18 SEASON – our 13th year!
MONTHLY DINNER & SHOW FUNDRAISERS FEATURING SOME OF NORTH AMERICA'S BEST BLUES BANDS * PROCEEDS TO LOCAL CHARITIES
April 20 – From Edmonton – BOOGIE PATROL www.boogiepatrol.com
One of western Canada's premier party bands. Led by singer/harp player Rott'n Dan (who reminds me of an early Joe Cocker) and Yuji Ihara on guitar these guys bring an amazing amount of energy to the stage. Fabulous Blues/Rock/Soul & Funk. You'll be buzzing for a week after this show! YOU TUBE https://www.youtube.com/watch?v=BGm2K8VFyWQ
PROCEEDS TO COUNTRY ROADS COMMUNITY HEALTH CENTRE
NOTE: Bands and dates may change due to unforeseen circumstances so check the websites www.BluesOnTheRideau.ca and www.coveinn.com or call The Cove 613-273-3636 for updates.
Cost: $65.
Date :
Friday, April 20, 2018 from 7pm to 11pm
Event location :
The Cove
2 Bedford St.
Westport, Ontario K0G1X0 Canada
Contact :
James Doran
Phone: 1.888.COVE.INN
Website: www.choosetheblues.ca or http://www.bluesontherideau.ca/