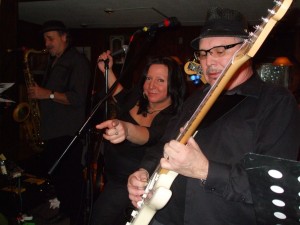 The great Toronto band – 2X Juno Award and multiple Maple Blues Award winners – FATHEAD 
www.fathead.biz
 returned to BOTR @ The Cove last Friday – the 4th visit since the Series started – and once again showed why they are one of the crowd favourites.  This time around they were missing their fabulous lead singer JOHN MAYS who unfortunately is going through some tough medical issues right now but the lovely and talented MISS ROBIN BANK$ stepped in as a Special Guest and did a superb job. It was a full house and a happy one – the dance floor remained packed all night (as always at BOTR @ The Cove) and both FATHEAD and ROBIN sold a bunch of their new CD's – "Fatter Than Ever" and "Modern Classics".
The Cove's sumptuous buffet included roasted pork loin with applesauce, a spicy pineapple chicken, butternut squash ravioli, roasted potatoes, mixed veggies and salads. And the chocolate torte square w. raspberry sauce dessert was to die for!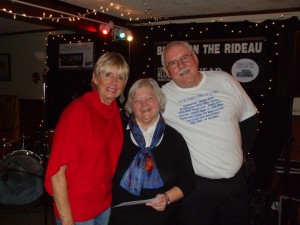 $600 was raised – plus some food and additional cash donations – for the WESTPORT FOOD BANK. The audience also stepped up big time with $300 in contributions to the HELP JOHN MAYS OUT Fund with everyone sending their love and best wishes to John for a full and speedy recovery. (If you want to help John out during this tough time you can do so on the FATHEAD website
www.fathead.biz
)
COMMENT CARDS
"Another fantastic Blues night at The Cove! Fathead and Robin Banks were awesome! 10 out of 10 for everything – as usual :-)"
Joan & Greg Mumford, Kingston (have attended many BOTR shows)
"Food was amazing. Band excellent. The 'fill in' singer Robin Banks was at the top of her game. 9's and 10's for venue and sound, 11 out of 10 for the food, service and band!"
Ellie Russell, Sydenham (has attended 5 previous shows)
"Warm and cozy. Like a big family party! 10 out of 10 for everything, 15 for the service!"
Margie Norwood, Westport (multiple show attendee)
"Eclectic audience, awesome band, good time! 9's and 10's for everything"
Harold McPhail, Almonte (first-timer)
"Loved the lights on the ceiling – they added great atmosphere. And couldn't believe how good the sound was in the space. Terrific! 10 out of 10 for everything – 10+ for the food and service"
Jennifer Klatt, Brockville (first-timer)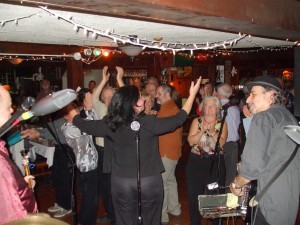 BOTR @ THE COVE takes a break over Christmas but returns with a roar in 2015 with the mighty JACK DE KEYZER & his band on 
JANUARY 23
. Tickets are already selling fast for this night so call and reserve now. And BOTR tickets make a great CHRISTMAS GIFT for the Blues lover on your List!
DINNER & SHOW still only $60
Proceeds go to support local charities
Well-priced accommodation at The Cove and nearby B&B's
Advance reservations required
Blues on The Rideau is produced by CHOOSE THE BLUES PRODUCTIONS  
www.choosetheblues.ca
 in co-operation with THE COVE INN, Westport ON 
www.coveinn.com
 with support from DAN AYKROYD WINES 
www.danaykroydwines.com
, 101.9 DAWG FM Ottawa 
www.dawgfm.com
 and LAKE 88 Perth/Rideau Lakes 
www.lake88.ca
WISHING YOU AND YOURS A VERY MERRY CHRISTMAS, HAPPY NEW YEAR AND JOYOUS HOLIDAY SEASON! See you in the New Year