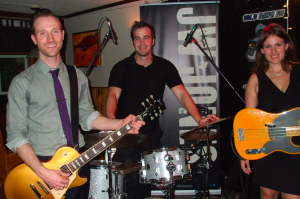 St. Patrick's Day came early last night (March 14) with Ottawa's own JW-JONES BAND www.jw-jones.com playing BLUES ON THE RIDEAU @ THE COVE INN, Westport. JW is famous for his blistering guitar work in Canada and around the world.  JW has played with legends like Kim Wilson of The Fabulous Thunderbirds, Hubert Sumlin from Howlin' Wolf's band, David "Fathead" Newman, Little Charlie Baty and Junior Watson to name a few. All the more special to have this group perform in the cozy setting of The Cove Inn. It was a great night of hot and sweaty blues and the audience loved it.
The Cove's delicious buffet  featured southern fried chicken and maple glazed salmon plus the usual tasty assortment of salads, veggies and dessert earning 10 out of 10 ratings on most of the Comment Cards.  $520 was raised for the RIDEAU WATERWAY LAND TRUST www.rwlt.org bringing the total raised this year for local Westport charities by the BOTR Series to just under $3K.
To get in on the great music and food come and see the next performances live here at The Cove. Donate to charity while having a fantastic night, what's better than that? Here are a list of upcoming events with Blues on the Rideau.
April 18 – THE HOGTOWN ALLSTARS  5 members from Canada's most famous Blues band – Downchild – plus the great Teddy Leonard on guitar. Big time, big band Blues.  They were here last year for the first time and were such a hit we just had to have them back!
* Note: This Show is already almost completely Sold Out so move fast to reserve the last few seats if you want to be there.
May 9/10 – DAVID ROTUNDO BAND 
www.davidrotundo.com
  Arguably the most popular band ever to play BOTR @ The Cove. David Rotundo is a fabulous singer, songwriter and showman – and one amazing harp player! Back for his annual visit. A 2 night stand.
* Tickets for both nights, especially Saturday, are already selling out so again, if you want to be there, reserve soon! DINNER & SHOW only $60 Proceeds go to support local charities. Advance reservations required Call 1-888-COVE-INN.