Blues On The Rideau at The Cove Inn, Westport Ontario – the popular once a month Dinner & Show Fundraiser Series – returns for its 6th season starting October 22nd. It's another superb Line-Up of artists this year with multiple Juno, Maple Blues and American Blues Award nominees/winners. Proceeds from all Shows go to support different local charities. $27,000 has been raised over the past 5 years and the goal is to raise at least $5,000 more this season. If you love good food and great Blues in a small, friendly atmosphere and you haven't been to a BOTR @ The Cove night before then you owe it to yourself to try one. You won't be disappointed. If you're a regular you already know how good these nights are! Welcome back. Summer withdrawal is over. See you for the first show on October 22nd with SHAKURA S'AIDA!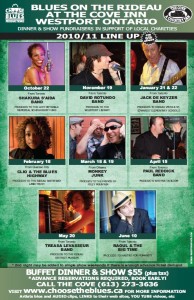 All artists appear with their bands.
Visit artists' web sites and MySpace sites for more information, audio and video clips, etc
October 22 – SHAKURA S'AIDA
Born in NY, raised in Switzerland, now living in Toronto – a beautiful woman with great stage presence and a passionate, powerful voice. Jazz, Blues and R&B as good as it gets.
www.shakurasaida.com
Proceeds to the Lucy Drysdale Memorial Scholarship Fund
November 19 – DAVID ROTUNDO
Back by popular demand. Down and dirty Blues with dynamite harmonica and voice. A high energy, entertaining show guaranteed every time.
www.davidrotundo.com
Proceeds to the Westport Library
January 21/22 (*2 night stand) – JACK DE KEYZER
Singer/songwriter and the King of Canadian blues guitar Jack de Keyzer returns to BOTR for a 4th time. 2010 Juno Award winner for Best Blues CD (his 2nd Juno – he also won in 2003) & and a 7X Maple Blues Award winner his reputation speaks for itself.
www.jackdekeyzer.com
Proceeds to Rideau Vista & St. Edwards' Elementary Schools
February 18 – CLIO & THE BLUES HIGHWAY
A rising new star from Quebec with a beautiful voice. Nominated for Best New Artist Of The Year Lys Award and Best Female Vocalist Maple Blues Award last year. Swing style, jazzy, smoky Blues.
www.myspace.com/cliovalerie
Proceeds to the Rideau Waterway Land Trust
March 18 & 19 (*2 night stand) – MONKEY JUNK
Ottawa's own and a very HOT band these days. Winners of the American Blues Award for Best New Band Of The Year and 6 Maple Blues Awards in 2010! Swamp R&B, soul boogie & bedroom funk.
www.monkeyjunkband.com
Proceeds to the Friends of Foley Mountain
April 15 – PAUL REDDICK
Canada's poet of the Blues with his superb harmonica and voice returns to BOTR for a 3rd visit. A multiple Maple Blues Award winner with a great new album.
www.paulreddick.ca
Proceeds to Westport In Bloom
May 20 – TREASA LEVASSEUR
Back for a 2nd visit. The slim lady with the BIG voice. A 2010 Juno Award nominee & multiple Maple Blues Award nominee. Delicious Blues, soul, funk & R&B.
www.treasalevasseur.com
Proceeds to the Rideau District Museum
June 10 – RAOUL & THE BIG TIME
Toronto actor and Blues man who blows harp like Little Walter reincarnated. A multiple Maple Blues Award winner. Rough 'n ready swing Blues.
www.raoulandthebigtime.com
Proceeds to Habitat For Humanity
NOTE * If there is enough advance ticket demand on single show weekends a Saturday night show may be added – so BOOK EARLY!