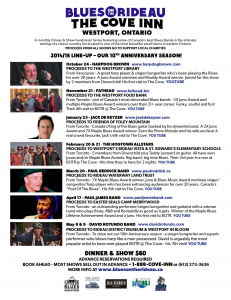 Blues On The Rideau – the famous Dinner & Show Fundraiser Series featuring some of Canada's best Blues artists which takes place once a month every year from October through May (excluding December) at The Cove Country Inn & Spa in Westport, Ontario – just announced their 2014/15 Line-Up – their 10th Anniversary season!
"We are very pleased with this year's Line-Up" says James Doran, Producer of the Series. "It's a combination of some of the most popular bands to have ever played BOTR – Fathead, Jack de Kezyer, The Hogtown Allstars, Paul Reddick and David Rotundo – plus a couple of great acts that have never been here before – Vancouver's Harpdog Brown and the Paul James Band from Toronto. All of these artists have either won or been nominated for Juno and/or Maple Blues Awards in the past. They really are the cream of the crop and it's wonderful to be able to see and dance to them up close and personal in the intimate setting of The Cove Inn".
Seamus Cowan, Manager of The Cove Inn and an excellent musician himself said "It's hard to believe that this little Series that started 10 years ago has grown into what it is today. We are known for our great regular LIVE music at The Cove and Blues On The Rideau is the jewel in the crown. You would normally have to go to a big city to hear bands of this caliber. We're honoured to provide such high quality entertainment to our customers at such a reasonable price – and raise money for the community at the same time. We thank James & Diane Doran from Choose The Blues Productions for bringing BOTR to The Cove and keeping it going all these years".
Despite cost increases the price for these nights remains at $60 pp this year (the same for the past 3 years). That includes a delicious full course buffet dinner, the show and dancing. Proceeds from all BOTR nights go to support different local Westport charities. The Series has raised over $50,000 for the community over the past 9 years and the goal is to hit another $5K this season.
2014/15 LINE-UP FOR BLUES ON THE RIDEAU @ THE COVE INN
October 24 – HARPDOG BROWN www.harpdogbrown.com
From Vancouver – A great harp player & singer/songwriter. A Juno Award nominee and Muddy Award winner. Joined by 2 members from Downchild!
PROCEEDS TO THE WESTPORT LIBRARY
November 21 – FATHEAD www.fathead.biz
From Toronto – 2X Juno Award and multiple Maple Blues Award winners over their 21+ year career. Their 4th visit to BOTR. Funky, soulful and fun!
PROCEEDS TO THE WESTPORT FOOD BANK
January 23 – JACK DE KEYZER BAND www.jackdekeyzer.com
From Toronto – Canada's King of the Blues guitar – 2X Juno Award and 7X Maple Blues Award winner. His 6th visit to The Cove!
PROCEEDS TO FRIENDS OF FOLEY MOUNTAIN
February 20 & 21 – THE HOGTOWN ALLSTARS
From Toronto – All stars indeed! – 5 members from Downchild plus Teddy Leonard on guitar – all Juno and/or Maple Blues Award winners!
PROCEEDS TO WESTPORT'S RIDEAU VISTA & ST. EDWARD'S ELEMENTARY SCHOOLS
March 20 – PAUL REDDICK BAND www.paulreddick.ca
From Toronto – 7X Maple Blues Award winner and a Juno & American Blues Music Award nominee. A wonderfully talented singer/songwriter & harp player.
PROCEEDS TO RIDEAU WATERWAY LAND TRUST
April 17 – PAUL JAMES BAND www.pauljamesband.com
From Toronto – A singer/songwriter/guitarist with a 40+ year career and a great veteran band who plays Blues, R&B and Rockabilly as good as it gets.
PROCEEDS TO EASTER SEALS CAMP MERRYWOOD
May 8 & 9 – DAVID ROTUNDO BAND www.davidrotundo.com
From Toronto – A superb singer/songwriter/performer who blows harp like a man possessed. One of the most popular bands to every play BOTR – his 7th visit!
PROCEEDS TO RIDEAU DISTRICT MUSEUM & WESTPORT IN BLOOM
More information including downloadable Schedule, LINKS to band websites, sample songs and YOU TUBES can be found at www.bluesontherideau.ca.