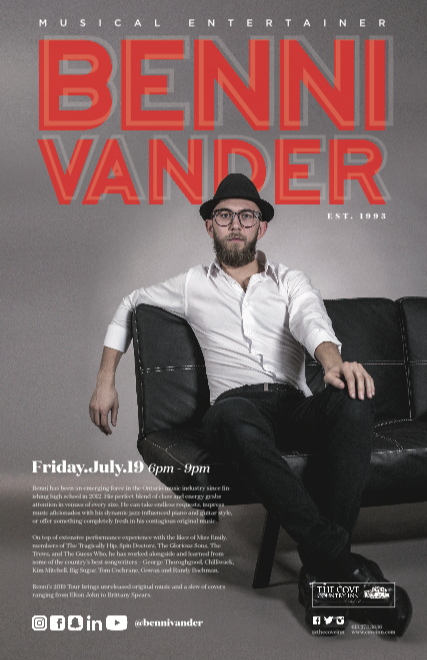 Benni has been an emerging force in the Ontario music industry since finishing high school in 2012. His perfect blend of class and energy grabs attention in venues of every size. He can take endless requests, impress music aficionados with his dynamic jazz-influenced piano and guitar style, or offer something completely fresh in his contagious original music.
On top of extensive performance experience with the likes of Miss Emily, members of The Tragically Hip, Spin Doctors, The Glorious Sons, The Trews, and The Guess Who, he has worked alongside and learned from some of the country's best songwriters – George Thoroghgood, Chilliwack, Kim Mitchell, Big Sugar, Tom Cochrane, Gowan and Randy Bachman.
Benni's 2019 Tour brings unreleased original music and a slew of covers ranging from Elton John to Brittany Spears.
Date :
Friday, July 19, 2019 from 6 to 9pm
Event location :
The Cove
2 Bedford St.
Westport, Ontario K0G1X0 Canada
Contact :
Website: http://www.bennivander.com/