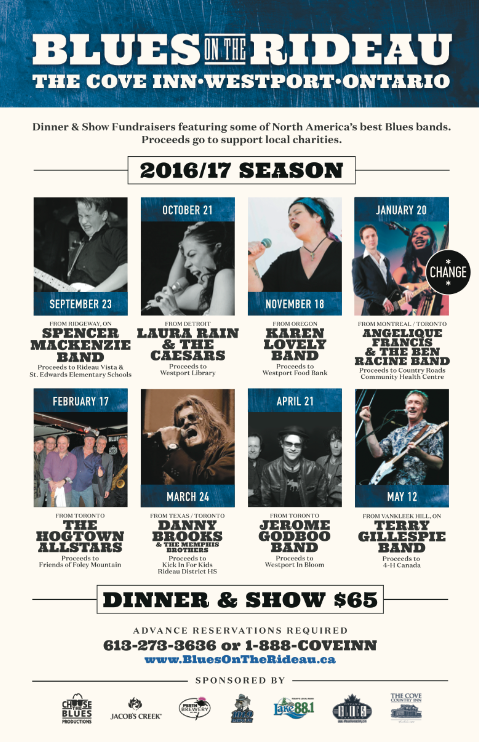 Welcome back to winter in Westport. Things are heating up here, let me tell you! It's always a great time settling in with specatacular live entertainment with some friends over a meal and drinks! Real amazing room deals on now too…
Give us a call 1.888.COVE.INN for a mid-winter break or look us up online and check out The Cove Events Calendar!
Hope to see you soon! Warm thoughts,
Seamus and all of us at The Cove in Westport
FEBRUARY

Fri.Feb.3 CHRIS MURPHY of Turpin's Trail (Celtic/East Coast Folk) 6-9pmwww.turpinstrail.com
Sat.Feb.4 JOHN WILBERFORCE (Folk/Rock, Kemptville) 6-9pmwww.johnwmusician.com
Fri.Feb.10 LOGAN BROWN & TAYLOR ANGUS (Acoustic Soul) 6-9pmwww.loganbrownmusic.org
Sat.Feb.11 VALENTINE'S! with HEAD OVER HEELS (Folk/Jazz/Blues, Gananoque)www.kevinheadmusic.com & 3 Course Table d'Hote 6-9pm $50
Fri.Feb.17 Blues on the Rideau Series with THE HOGTOWN ALLSTARS feat. members of Downchild Blues Band (Toronto/Hamilton) 7-11pm $65 Buffet, Show & Charitywww.downchild.comwww.bluesontherideau.ca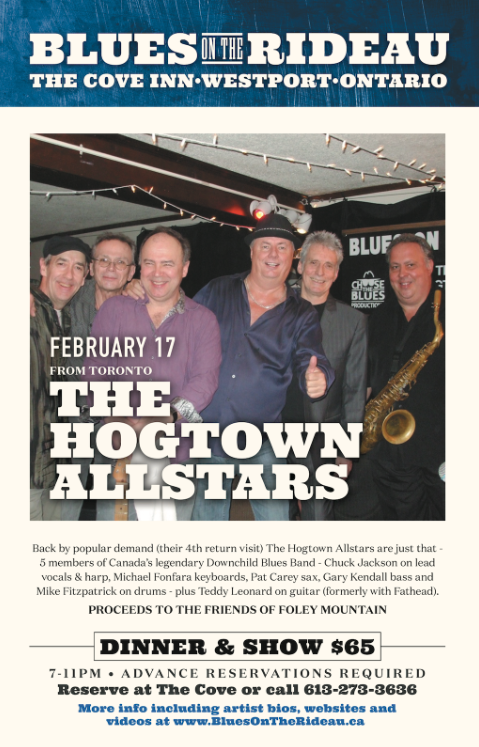 Sat.Feb.18 HEAD OVER HEELS (Folk/Jazz/Blues, Gananoque) 6-9pmwww.kevinheadmusic.com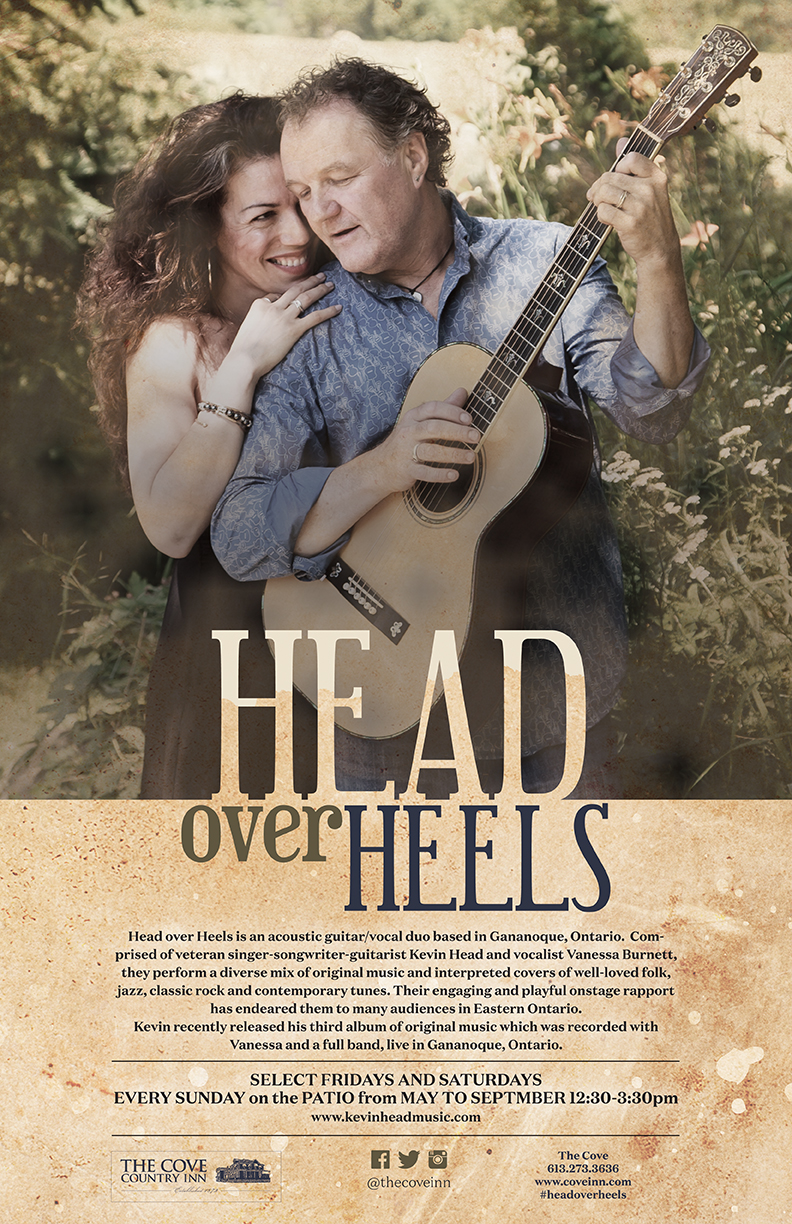 Sun.Feb.19 WINTER CARNIVAL AFTER PARTY with SHAWN McCULLOUGH & HENRY NORWOOD 4-8pmwww.reverbnation.com/shawnmcculloughwww.facebook.com/HenryNorwoodArtist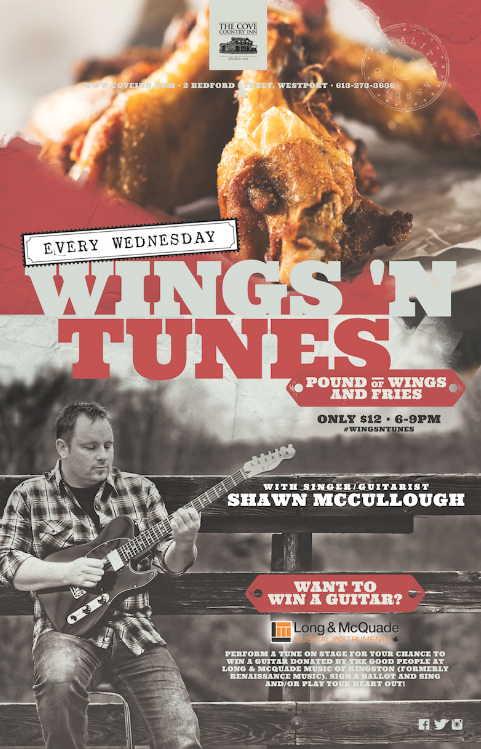 Tue.Feb.21 THAI FOOD & WINE NIGHT with Chef Joanne Edwards of The Cove and Chef Judy Dempsey of The Table in Perth. 5 Course with Wine Pairings 6-9pm $85 Reservations Only.
Fri.Feb.24 WEBER BROTHERS TRIO Ronnie Hawkins' Former Band (Folk/Rock, Peterborough) 7-10pm $10www.weberbrothers.com
Sat.Feb.25 Westport Rideaus Jr.B ELIMINATION $5000 DRAW! with Music by ERIC UREN 6-10pmwww.youtube.com/user/Groundhogmusicwww.westportrideaus.com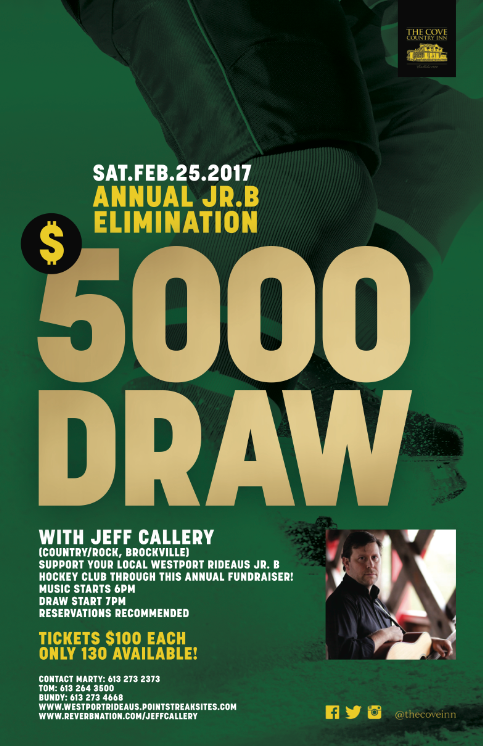 MARCH
Fri.Mar.3 MARDI GRAS JAZZ NIGHT with SPENCER EVANS TRIO  (Kingston) Dance and wear your costumes and beads! 7-10pm
Sat.Mar.4 Westport Arts Council Fundraiser: DOWN EAST KITCHEN PARTY with KINGSTON CEILI BAND (East Coast/Folk, Kingston) 1-4 pm $10 www.ceiliband.com www.westportartscouncil.com and
HEAD OVER HEELS (Folk/Jazz/Blues, Gananoque) 6-9 pm www.kevinheadmusic.com
Thur.Mar.9 THAI FOOD AND WINE DINNER with Chef Joanne Edwards and Judy Dempsey. 5 Course Meal with Beer and Wine Pairings. 6-9 pm $80.
Fri.Mar.10 JEFF CALLERY (Rock/Folk, Brockville) 6-9 pm www.reverbnation.com/jeffcallery
Sat.Mar.17 ST PATRICK'S DAY PARTY with TURPIN'S TRAIL (East Coast/Folk, Kingston) 6-10 pm $10 www.turpinstrail.com
Sat.Mar.18 ST. PATTY'S HANGOVER  PARTY with SHAWN McCULLOUGH 7-10 pm www.reverbnation.com/shawnmccullough
Fri.Mar.24 Blues on the Rideau Series with DANNY BROOKS with LIL'MISS DEBI & THE MEMPHIS BROTHERS (Texas/Toronto) 7-11 pm $65 www.dannybrooksmusic.com www.bluesontherideau.ca
Sat.Mar.25 CAMPFIRE LIARS CLUB featuring PAUL LANGLOIS (the Tragically Hip, GREG BALL, JIM  TIDMAN and JOE CARSCALLEN (Folk, Rock, Kingston) 7-11 pm Buffet + Show $60 www.paullanglois.com www.gregball.ca www.chingmusic.com
Fri.Mar.31 JOHN WILLBERFORCE (Folk/Rock, Kemptville) 6-9 pm www.johnwmusician.com
***Reservations Suggested from All Events
info@coveinn.com
www.coveinn.com
1.888.COVE.INN
Follow us on Twitter and Instagram @thecoveinn
www.facebook.com/thecovecountryinn