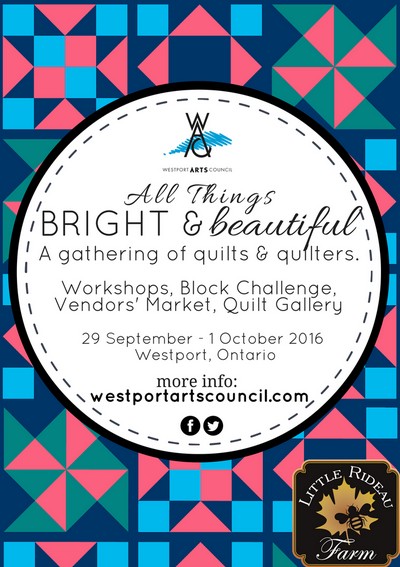 A three day event has been designed for quilters and lovers of quilts.
Workshops, challenges, guest speakers, vendors market and sewing time with friends all lead to a fabulous exhibition of quilts set against the beautiful stained glass of our local Westport churches. You are welcome to submit your own quilts… both new and vintage… to be on display.
Schedule
Thursday September 29, 9am-4pm
Choose from five separate workshops. There is something for all levels of quilters – from beginners to advanced.  Refine a traditional skill, or try your hand at a contemporary piece.  We are very pleased to have many talented women leading these workshops so come and have fun!
Friday September 30, 9am-4pm
Quilter's Café Day!  Come and drink coffee while you sew and visit with friends.  We are offering a Block Challenge this day. You will receive a package of fabric to sew/design a 12" block. These blocks will be on display on October 1 and will then be made into a quilt for Canada's Sesquicentennial year. Bring your creativity with you!
Fall Luncheon at The Cove. We are pleased to welcome Carol Darou from the Lanark Quilt Guild as our guest speaker over lunch.  All are welcome to hear Carol's story and enjoy a time with friends. Contact Mary Anne Bishop at thepamperedladybug @ gmail.com if you wish to attend only the lunch.
Saturday October 1, 10am-3pm
Quilt Celebration Tour: Saturday will be the ultimate celebration of quilts – both old and new.  As you travel to the village churches you will appreciate these works of art as they are mingled with church stained glass and architecture.  Throughout the day, oral quilting stories will take place.
Registration
To register for all or individual events, please process payment through PayPal. If you are registering for more than one item, you can select the "continue shopping" button in PayPal to add additional items to your transaction. For detailed information about each day's events, click to see the brochure. To register your quilts for the Special Quilts Show, please complete the registration form and email it to us by 1 September, 2016.
Date :
September 29 to October 1, 2016
Event location :
Westport, ON
Contact :
Website: www.westportartscouncil.com