We have a really special night on MONDAY with Alex Goodman Quintet from Toronto. They are on their way to across the province heading to the Montreal Jazz Festival where they will be featured as one of the up and comers on the Canadian jazz scene!
It's going to be a great night of high calibre, instrumental jazz (Monday, June 27, 2011)! The Cove will be serving dinner as well so join them early if you like. Show 8-11pm, $10/person.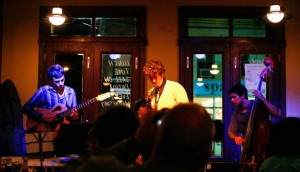 Jazz Night continues with Spencer Evans Trio featuring Jeff and Seamus Cowan every Thursday Night from 9-11pm. These nights are massively fun with all kinds of folks out! For those of you that love the Wine and Food Tasting nights, Joanne Edwards will be featuring weekly "jazz" inspired specials.
For more information on local entertainment taking place at The Cove visit www.coveinn.com