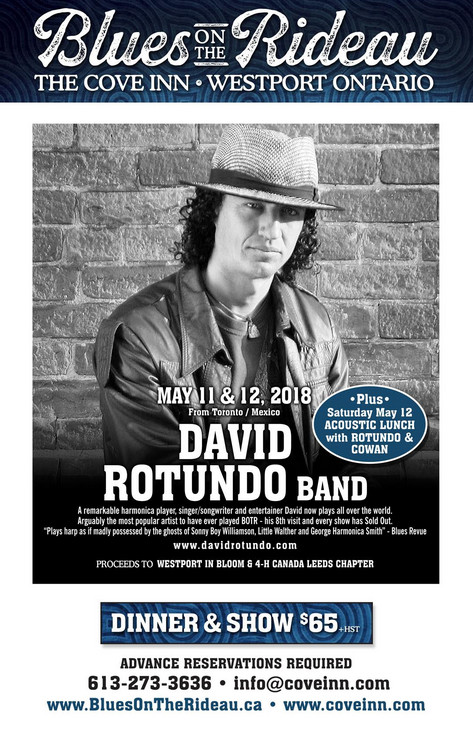 There's a first time for everything and the first time any member of Blues on the Rideau approached Seamus to ask if he would like to sit in an play a tune, it was David Rotundo. Ever since then, there has a been a connection both musical, spiritual and personal. Let's see what happens when the two meet for music over lunch…
Seamus Cowan
Seamus has been playing in bands since he was seventeen and has toured extensively throughout Canada and the US. He started early in a rhythm section on bass with his twin brother Jeff on drums. He's played in dozens of bands (including his own band Bullmoose, as well as Spoon River, The High Dials, Spencer Evans Trio, JP Houston and The Murder, Young Petty Stones, Tavis E. Triance & The Natural Way, and many others).
His first recording with his band Bullmoose was released in 2004 and has since released a second album and three as a member of Spoon River and The Natural Way. He now writes his own tunes on acoustic guitar, etc. He has co-written songs for these records and has sung, played and recorded on over 15 albums and performed on an NFB film. He studied Jazz Performance on upright bass at McGill University in Montreal and graduated with a BMus in 2002. He also runs a family hotel/music venue called The Cove in Westport where he guests and backs up many musicians and currently lives with his wife and two sons.
David Rotundo
www.youtube.com/watch?v=vqXcjQeAEDM&feature=youtu.be
$30 + HST Served Lunch + Show
www.davidrotundo.com
www.bluesontherideau.ca
www.coveinn.com
A Co-presentation of Choose the Blues Productions and James Doran.
Date :
Saturday, May 12, 2018 from 12pm to 3pm
Event location :
The Cove – 2 Bedford St.
Westport, Ontario K0G1X0 Canada
Contact :
Organizer: James Doran – Website:  http://www.choosetheblues.ca/