Acoustic Blue Monday Summer Series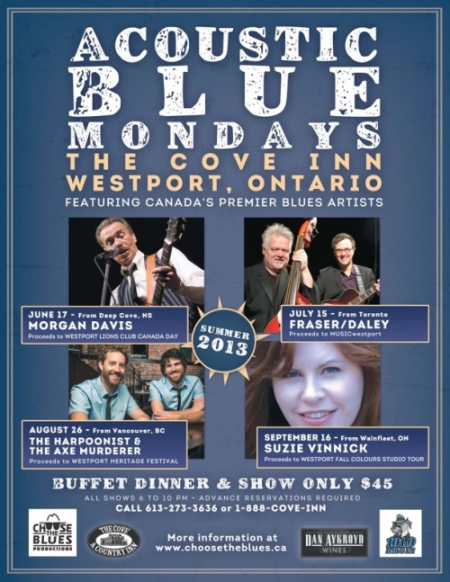 Acoustic Blue Mondays at The Cove Inn, Westport, Ontario is a summer Dinner & Show fundraiser Series featuring some of Canada's best acoustic Blues artists. Acoustic Blue Mondays is produced by Choose The Blues Productions.
For more information you can visit www.coveinn.com or www.choosetheblues.ca.
June 17, 2013 – MORGAN DAVIS

A wonderfully talented singer, songwriter & guitarist who plays both original and traditional blues. Originally from Detroit via Los Angeles via Toronto Morgan now lives in Deep Cove, Nova Scotia. Over his long career he's won a Juno and 9 Maple Blues Awards as Songwriter, Recording, Producer, Male Vocalist and Acoustic Artist Of The Year. He's performed with legendary artists like Bukka White, Johnny Shines, Sunnyland Slim, Snooky Pryor, Hubert Sumlin, John Hammond and King Biscuit Boy. Anyone who appreciates straight-up blues delivered with talent, intensity and a good dose of humour will love Morgan Davis.

July 15, 2013 – FRASER/DALEY

Alec Fraser on upright bass, percussion and back up vocals and Mike Daley on guitar and lead vocals combine old time blues a la Blind Lemon Jefferson with great original songs in the country blues style. They met in 2007 after a Jeff Healey concert (Alec played bass in Jeff's band for years and is also an award winning producer), started playing together and haven't stopped since. "Fraser plays the upright bass so well, he needs no percussionist. And Daley is a magician on guitar" – The Hamilton Spectator

August 26, 2013 – THE HARPOONIST & THE AXE MURDERER

This duo with the unusual name is – Shawn Hall on vocals and harp (the Harpoonist) and Matt Rogers on guitar, stomp board, bass, keyboards and back-up vocals (the Axe Murderer). They make a lot of sound for just two guys and bring a fresh take to roots blues with their contemporary lyrics and unique arrangements – yet they remain true to the old blues traditions. It's blues for a changing world – or as one of their fans put it – "blues that gets you in the crotch". Maple Blues Award nominee for Best New Artists Of The Year in 2012.

September 16, 2013 – SUZIE VINNICK

Suzie was born and raised in Saskatoon, spent years in Ottawa and Toronto and now resides in rural southern Ontario. She is one of the best-known folk blues singer/songwriter/guitarists in Canada with a voice that has been described as "spun gold and honey". Over the past 10 years she's won the Maple Blues Award for Best Female Vocalist a record 6 times, was nominated for a Juno last year and was a finalist in the Solo/Duo category at the 2013 International Blues Challenge in Memphis last January. "Warm, rich and emotional, Vinnick's gorgeous vocals ring with confidence…" Ottawa Citizen
The Cove is a classic 137 year old country inn located in one of the most beautiful small towns in eastern Ontario on the shores of scenic Upper Rideau Lake, part of the Rideau Waterway – a UNESCO World Heritage site. It's a wonderful place to visit any time of year but especially in the summer. The Cove is famous for its excellent food and drink, friendly staff, comfortable accommodation and fabulous LIVE music. It's only a 45 minute drive from Kingston, 1.5 hours from Ottawa, 2.5 from Syracuse NY, 3 from Montreal and 4 from Toronto – or you can come by boat!
Accommodation is available at The Cove and nearby B&B's at very reasonable rates but book ahead, rooms sell out early for Blues nights. Note that The Cove offers 25% off B&B room rates from Sundays to Thursdays.
All ACOUSTIC BLUE MONDAY Shows include a delicious full course buffet
BUFFET DINNER & SHOW for Acoustic Blue Mondays only $45
All shows 6 to 10 pm
Proceeds go to support different Westport festivals and cultural events
ADVANCE RESERVATIONS are required
Call (613) 273-3636 or 1-888-COVE-INN