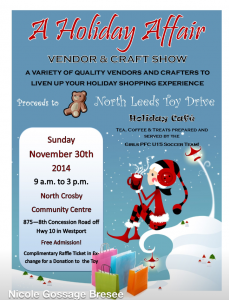 It's that time of year again, come to the vendor and craft show at the North Crosby Community Centre in Westport November 30th, 9am-3pm. There will be a variety of local artisans and quality goods for sale as well as local vendors and commercial goods.
Whether you are starting your christmas shopping or just finishing, there is guaranteed to be fabulous treats fro the ones you love and those you're thinking about.
Tea, coffee and goodies will be served by the girls PFC U15 Soccer Team. Proceeds from this event will be donated to the North Leeds Toy Drive.
We look forward to seeing you there!