MUSICwestport kicks off the party with Zal Sissokho (West African music from Montreal) on Friday August 16, 2013 from 8-11pm at the Cove. Cost is $10/person and 100% proceeds go to the Westport Arts Council. A master of the Kora, a 21 stringed harp instrument native to West Africa built from half of a large gourd covered by a cow skin, Zal plays this dreamy instrument while singing his gorgeous songs ranging in dynamic from energetic high life dance music to meditative ballads!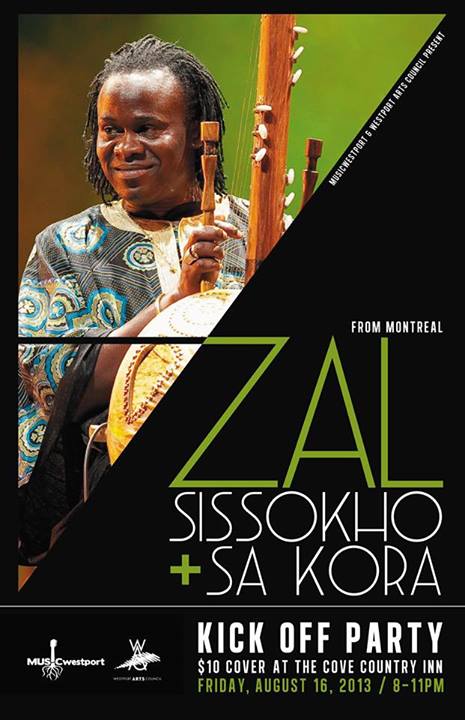 Join Westport Ontario music lovers the next day, August 17, 2013 for 9 acts, 2 stages, 1 festival!
Local to international talent performing all kinds of genres…This is a FREE festival from 11:30am-7pm!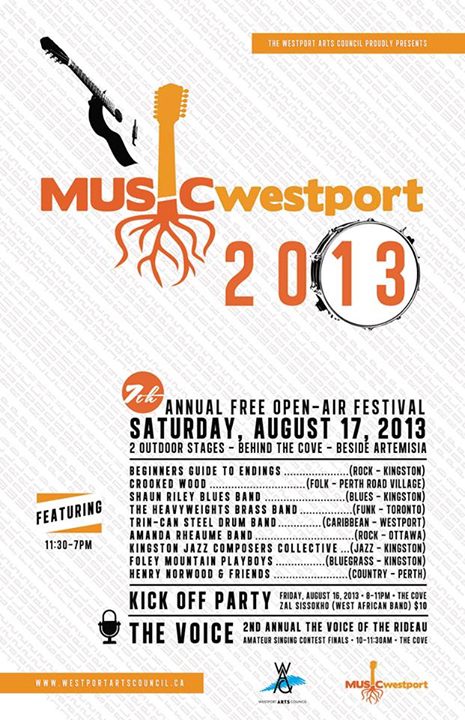 FESTIVAL LINEUP
Beginners Guide to Endings (Kingston)
Crooked Wood (Perth Road Village/Kingston)
Shaun Riley Blues Band (Kingston)
The Heavyweights Brass Band (Toronto)
Trin-Can Steel Drum Band (Westport/Ottawa)
Amanda Rheaume Band (Ottawa)
Kingston Jazz Composers Collective (Kingston)
Foley Mountain Playboys (Westport/Kingston)
Henry Norwood & Friends (Perth/Westport)
The VOICE of the Rideau Amateur vocal competition at 10-11:30am. Auditions Sat.Jul.20 at North Crosby Recreation Centre.