If you live within striking distance of Westport Ontario….
5 GOOD REASON why you should get out and see Montrealer ROB LUTES w. Special Guest ROB MacDONALD playing THE COVE INN, Westport Ontario www.coveinn.com this Friday SEPT 8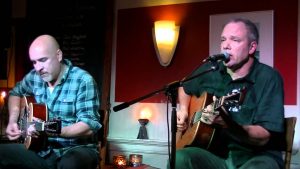 1) Rob Lutes is quite simply one of the best acoustic Roots Blues singer/songwriter/guitarists on the scene today – and that's not just me saying it.
"…amongst the ranks of the best…insightful and meaty, gutty and gritty..he keeps getting better with each project. This guy is here to say."
Montreal Folk Festival
"A great songwriter with a great way with words. And a fantastic guitar picker!"
Michael Jerome Browne (another fabulous Montreal Blues Roots artist)
"A gem. Among the best in a crowded Roots field"
Toronto Star
2) He doesn't get out this way that often. Take advantage of this opportunity to see him when he's here!
3) His last show at The Cove when he played solo was brilliant. This time he's accompanied by long time friend and another fabulous acoustic guitarist – ROB MacDONALD. (They did a great LIVE album back in 2011 that I highly recommend). These two guys make beautiful music together.
4) He has a great new album out – just released – called "Walk In The Dark" which many are saying is his best work yet. He'll be playing lots of songs off it at this show – and you can buy a copy – and get it signed – when you're there!
"Walk In The Dark" is back porch Americana so real and well conceived that you have to play it several times to make sure you heard what you thought you heard. A real cooker.."
Midwest Record, USA
5) Admission for this show is only $10 and THERE ARE STILL TICKETS AVAILABLE 7-10 pm You can of course enjoy some great Cove food and drink while you're there.
Call The Cove and RESERVE NOW 613-273-3636 or 1-888-COVEINN
More info about Rob on his website at www.RobLutes.com and there is a LINK there to his Soundcloud page where you can listen to some of his music. If you aren't already a fan then you will be after you have a listen – and he's even better LIVE!