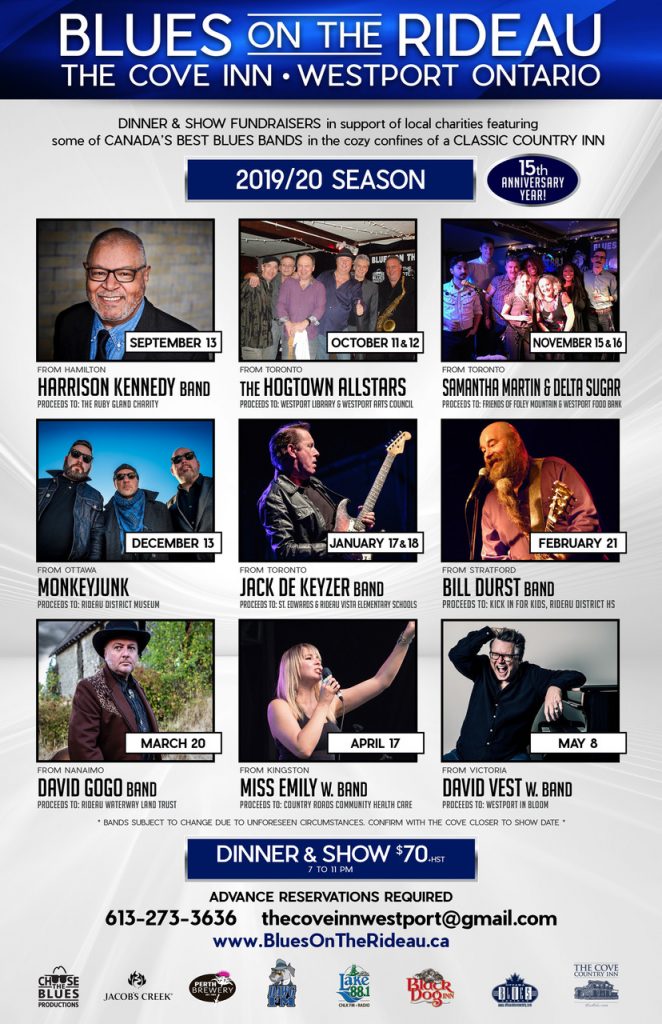 PRESS RELEASE – For Immediate Release
BLUES ON THE RIDEAU @ THE COVE INN, WESTPORT RETURNS FOR ITS 15TH ANNIVERSARY SEASON SEPTEMBER 13th WITH AN AMAZING LINE-UP
Blues On The Rideau at The Cove Inn in Westport Ontario returns for its 15th Anniversary Season on September 13th with Juno Award winner HARRISON KENNEDY and his band from Hamilton kicking off what is arguably the best Line-Up ever for the Series. There will be one show per month from September through to May 2020.
This Dinner & Show Fundraiser Series has become one of the longest running and best-known  Blues Series in the country featuring some of Canada's best Blues, Soul, R&B and Blues-Rock bands. Getting to see bands of this caliber in the friendly, intimate setting of a classic country inn in one of the most scenic villages in Ontario is a truly unique experience.
Proceeds from each show go to support different local charities/good causes. To date over $74,000 has been raised by BOTR with the goal of another $6K this season.
There are 12 BOTR shows for the 2019/20 including three 2 Night Stands. All shows take place from 7-11 pm and include a delicious full course buffet dinner, dancing and door prizes with a chance to win 2 Grand Prizes at the end of the season. The ticket price has gone up slightly for 2019/20 (the first increase in 5 years) – from $65 to $70 pp (plus HST) – but that still makes it one of the best entertainment values in the country!
Here's the 2019/20 Line-Up:
September 13 From Hamilton: HARRISON KENNEDY w. BAND. Arguably Canada's best Soul Blues male vocalist – a Juno, Maple Blues and Charles Gros, France Blues award winner. Former member of the famed Motown band Chairmen Of The Board.
October 11 & 12* From Toronto: THE HOGTOWN ALLSTARS. A Series' favourite. Fabulous big time Blues, Soul & R&B by 6 members from 2 of Canada's most famous Blues bands – Downchild & Fathead.

November 15 & 16

* From Toronto:

SAMANTHA MARTIN & DELTA SUGAR

. Back for a 2 Night Stand after their amazing debut BOTR show last season. Great Soul Blues with dynamic harmonies. Nominated for 6 Maple Blues and a Juno Award in 2019.
December 13 From Ottawa: MONKEYJUNK Canada's famed Blues/Funk/Rock Supergroup. Winners of 2 Junos, 21 Maple Blues Awards, 2 Canadian Indie Awards and an American Blues Music Award!
January 17 & 18* – From Toronto: JACK DE KEYZER BAND. Another BOTR all time favourite – a record 9th visit! 2X Juno and 7X Maple Blues Award winner. Fabulous Blues guitar mixed with Funk, Rock, Soul, Jazz & R&B influences.
February 21 – From Stratford ON BILL DURST BAND. His first visit to BOTR. A powerful Blues Rock Trio in the style of ZZ Top. If you love your Blues hard & heavy – be there!
March 20 – From Nanaimo, BC. DAVID GOGO BAND Another first timer to BOTR and long overdue. A 6X Juno Award nominee and 3X Maple Blues Award winner for Guitarist of the Year. Modern Blues/Blues Rock at its best.
April 17 – From Kingston MISS EMILY w. BAND One of the most dynamic Soul/Blues/Jazz/R&B singers to hit the Canadian scene in decades with a great 7 piece band including The Cove's Seamus Cowan on bass!
May 8 – From Victoria, BC. DAVID VEST w. BAND – Alabama born and bred David plays Boogie-Woogie piano as good as it gets. Winner of the Maple Blues Award for Best Keyboard player 5 of the past 7 years! His 3rd visit to BOTR.
* Indicates a 2 Night Stand
For those who have never attended a BOTR night: The Series takes place in The Cove Inn, a beautiful 140 year old country inn located in one of the most scenic villages in eastern Ontario – Westport – on the shores of Upper Rideau Lake – part of the historic Rideau Canal Waterway (a UNESCO World Heritage Site). Westport is only a 1.5 hour drive from Ottawa, 45 minutes from Kingston, 2.5 hours from Syracuse and 3 hours from Toronto and Montreal. Google Map "The Cove Country Inn, Westport Ontario" to see how best to get there.
Full details on the Series including the artists' Bios, links to their websites and YOU TUBE videos – plus the charities that are being supported can be found at www.BluesOnTheRideau.ca
Note that bands may change due to unforeseen circumstances so best to check the website or contact The Cove Inn to confirm as each show approaches.
ADVANCE RESERVATIONS are required for all shows and can be made at The Cove by phone
1-888-COVEINN or 613-273-3636 or email thecoveinnwestport@gmail.com  
NOTE: All reservations require a Credit Card number but the card is not charged until the night of the show. Changes or cancellations can be made up to a week prior to the show without penalty but after that the card will be charged whether you show up or not.
Well-priced accommodation is available at The Cove and nearby B&B's and a motel in town but book well ahead. All the beds in Westport usually sell out on BOTR nights.
Blues On The Rideau is produced by Choose The Blues Productions www.choosetheblues.ca in co-operation with The Cove Inn www.coveinn.com  Sponsored by Perth Brewery www.perthbrewery.ca, Jacob's Creek Wines www.jacobscreek.com, DAWG FM.com Ottawa www.dawgfm.com, LAKE 88 Perth/Rideau Lakes www.lake88.ca, The Black Dog Inn, Westport and the Ottawa Blues Society www.ottawabluessociety.com
For more information contact:
James Doran, Producer, Choose The Blues Productions, Kenmore ON 613-574-0086  james@choosetheblues.ca
Seamus Cowan, Manager,The Cove Inn, Westport 613-273-3636  thecoveinnwestport@gmail.com