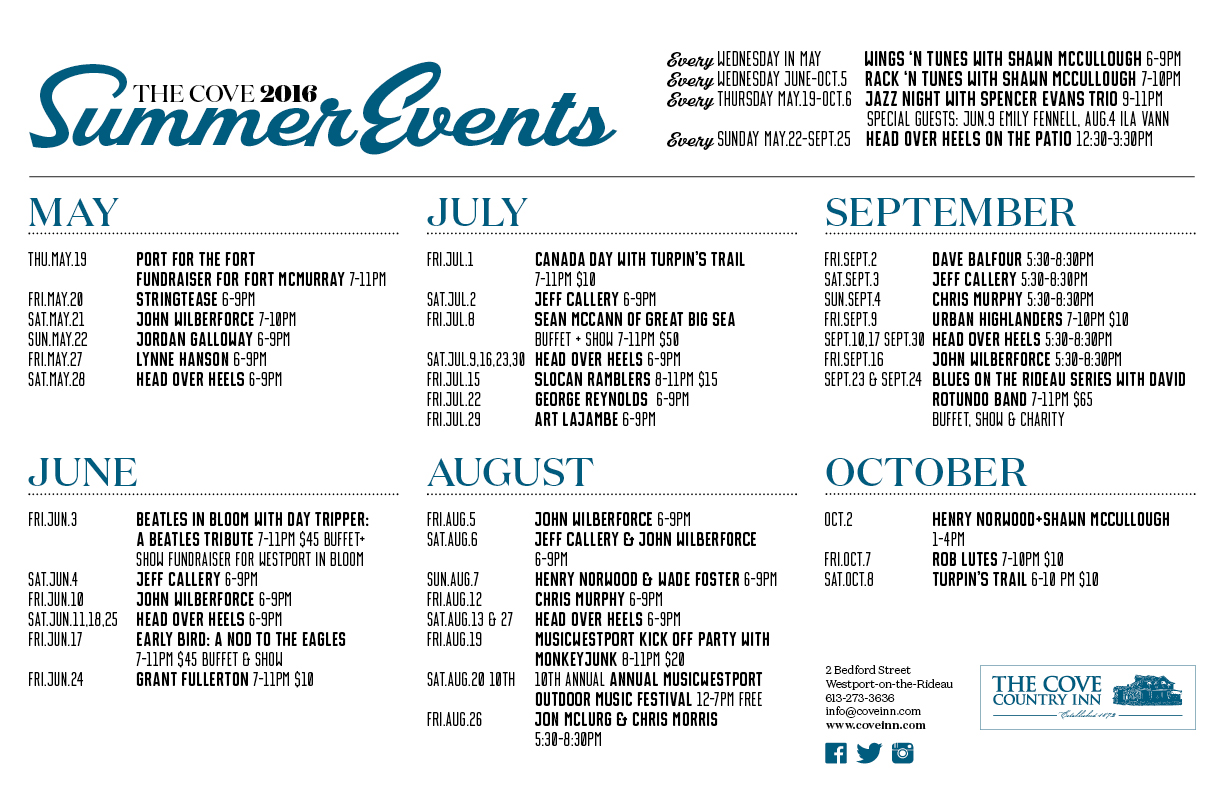 Happy first of June,
Wasn't that a May! I mean, it felt like California around here and it looks
like it too! We are so happy summer is back. It's time to get out, stretch
out, celebrate life with family and friends.
Lots and lots going on at The Cove this summer and it all starts now, in
June, with The Beatles!
We have a new menu coming this weekend which we have faith you'll enjoy! We
also have some wonderful new staff on the squad!
Here are our events for this month…Come by for a visit sometime!
Thanks again, as always,
Seamus and ALL of us at The Cove
PS It always gets busy this time of year so if you want to be assured a
table on key nights, be sure to reserve in advance.



JUNE EVENTS @ The Cove


Enjoy Daily, Delicious Food Specials…and NEW SUMMER MENUS!
#thecoveinnfood
Sun-Thurs, 15% Off Room Rates (plus HST and includes breakfast)
*#thecoveinnrooms*

Every Wednesday Jun – Oct.5 RACK 'n TUNES with Shawn McCullough 7-10pm
www.reverbnation.com/shawnmccullough Play a Song and you could win a
Guitar! *#rackntunes*
Every Thursday JAZZ NIGHT with Spencer Evans Trio 9-11pm Special Guest:
 
Jun.9 EMILY FENNELL (R&B/Soul Diva & Vocal Powerhouse) *#jazznight*
Every Sunday HEAD OVER HEELS on the Patio 12:30-3:30pm
www.kevinheadmusic.com *#patioheadoverheels*
*#thecoveinnmusic*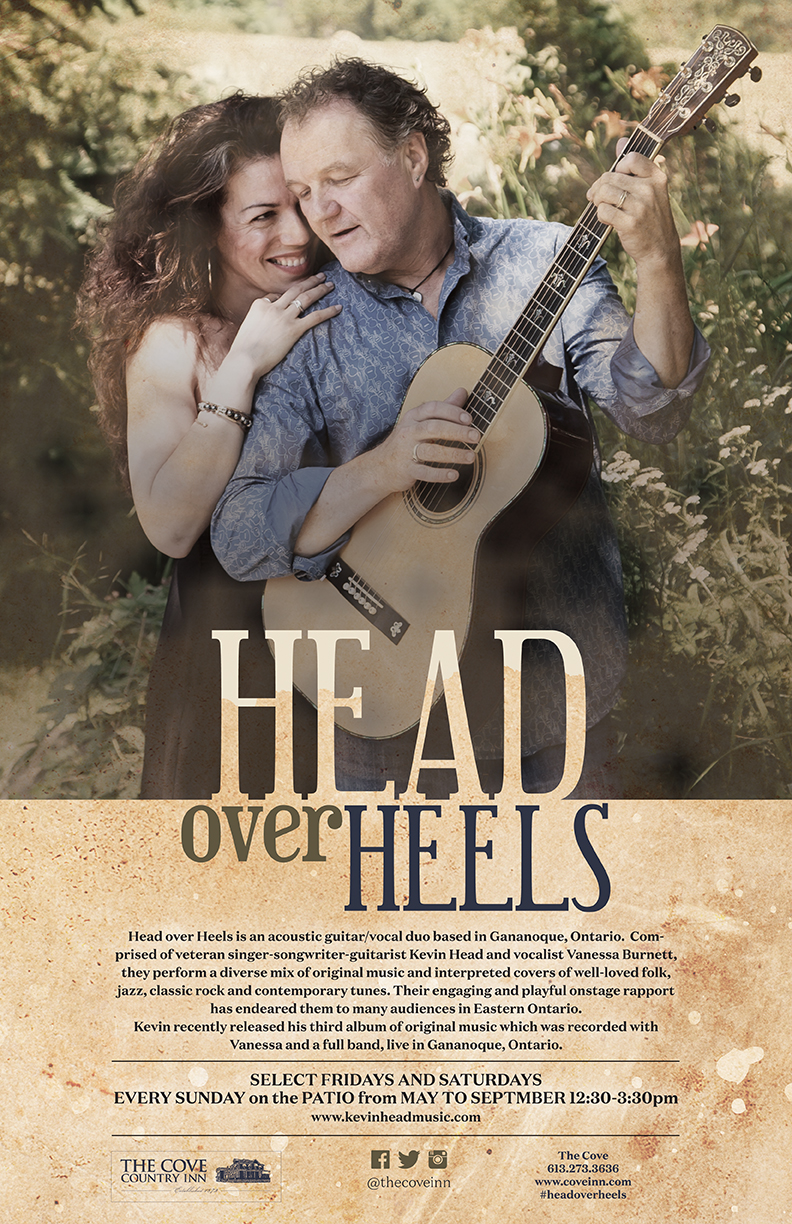 Fri.Jun.3 Beatles in Bloom with DAY TRIPPER: A BEATLES Tribute (Montreal)
7-11pm $45 Buffet & Show Fundraiser for Westport in Bloom
www.daytrippertribute.com www.westportinbloom.com
Sat.Jun.4 JEFF CALLERY (Folk/Rock, Brockville) 6-9pm
www.reverbnation.com/jeffcallery
Fri.Jun.10 JOHN WILBERFORCE (Folk/Rock, Kemptville) 6-9pm
www.johnwmusician.com
Sat.Jun.11, 18 & 25 HEAD OVER HEELS (Guitar/Vocal Duo, Gananoque) 6-9pm
www.kevinheadmusic.com
Fri.Jun.17 EARLY BIRD: A Nod to THE EAGLES (Montreal/Westport) 7-11pm $45
Buffet & Show
Fri.Jun.24 GRANT FULLERTON (Former Member of Lighthouse, Toronto) 7-11pm
$10 www.grantfullerton.weebly.com

Fri.Jul.1 CANADA DAY PARTY with TURPIN'S TRAIL (East Coast/Folk,
Kingston)…we couldn't resist! 7-11pm $10 www.turpinstrail.com

Sat.Jul.2 JEFF CALLERY (Folk/Rock, Brockville) 6-9pm
www.reverbnation.com/jeffcallery


***Reservations Suggested from All Events
info@coveinn.com
www.coveinn.com
1.888.COVE.INN
Follow us on Twitter and Instagram *@thecoveinn*
www.facebook.com/thecovecountryinn
Check out my weekly musical column called "Notes from the 'Port " for The
Review-Mirror Westport newspaper!