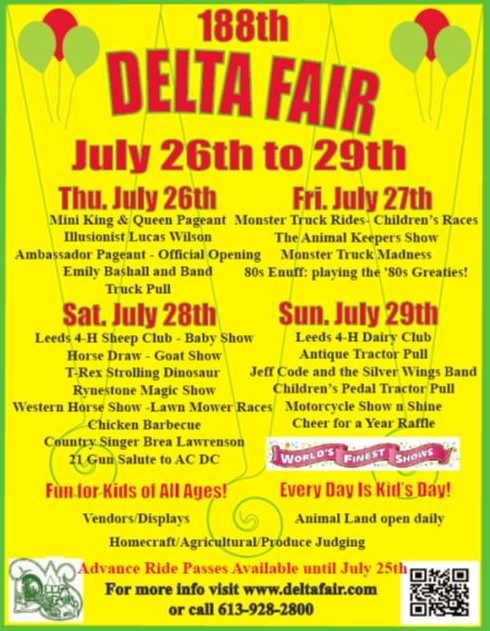 The Delta Fair is one of the summer's hottest attractions in Eastern Ontario.
Established in 1830, Delta Fair is one of Ontario's oldest operating Agricultural Fairs. The first president was the Honourable Charles Jones, Member of the Upper Canada Legislative Council. Until 1866, the Fair rotated locations between Delta, Farmersville (Athens) and Gananoque before settling in Delta, on land owned by the Thomas Morris family. The grounds were leased until 1911, when the Fair Board purchased the land at a cost of $1600.00
Originally incorporated as the "South Leeds Agricultural Society", the members opted to change the name to the present, "Delta Agricultural Society", following the 100th Anniversary in 1930. Now held annually in July, the Fair, also known as the "People's Holiday" has taken place in August and September.
We will of course be open during the fair with tours of the mill from 10 am to 5 pm each day. We'll have a milling demonstration starting at 1 pm on Saturday. Admission is free (donations appreciated).
The Delta Fair offers the opportunity to celebrate and reward agricultural pursuits. We offer a wide variety of prizes, ribbons, monies and trophies for all ages. The public is invited to enter competitions in areas such as:
Agricultural Display
Ambassador Pageant
Antique Tractor Pull
Art & Photography
Canned & Bottled Goods
Children's Events, Games and Races
Eggs
Talent Shows & Entertainment
Horse Draw
Family Horse Show
Flowers & Plants
Goats
Grains & Grasses
Home Baking
Home Craft
Honey
Lawn Mower Pull
Leeds County 4-H
Leeds County 4-H Livestock
Maple Syrup & Sugar
Parade floats, bands, bikes, etc.
School Exhibitions
Seniors Competition
Vegetables, Herbs & Fruit
Western Games Show
Ticket type: Delta Fair Mega Pass – 2018 at $30.
Date :
July 26 – 29, 2018
Event location :
110 Mill Creek Drive, Delta, Ontario
Contact :
Phone / Fax: 613-928-2800
Email: deltafair@ripnet.com
Website: www.deltafair.com